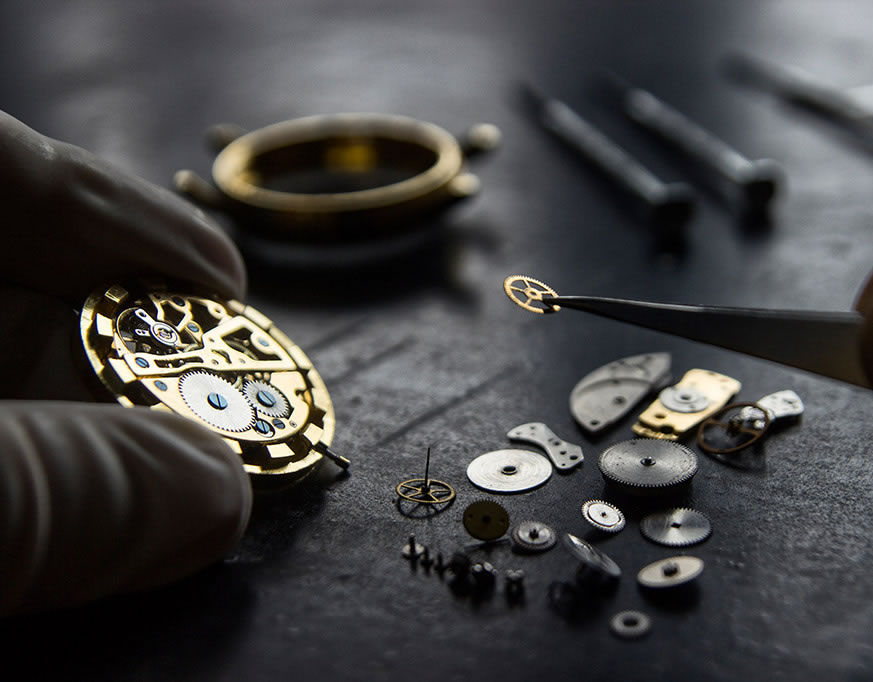 Professional Cleaning and Restoration Services
Is your Rolex beginning to show signs of wear and tear? Has the dull finish of your vintage Oyster Royal made you avoid wearing it out in public? Make your luxury timepiece shine like new with professional cleaning and restoration services. Some may assume that soap and water is all you need to bring back the shine, but this isn't so. Exposing your watch to water or harsh chemicals could cause your Rolex to become permanently damaged. Our specialists will use the industry's highest quality cleaning products and polishing techniques that will bring back your watch's gleam without posing unnecessary risks.
Part Replacement
Do you have a broken watch face, deteriorating bezel or dysfunctional crystal? We also offer part replacements. Our specialists have the training, skills and experience required to ensure that your Rolex remains in top condition for many years to come. Here are just a few of the most commonly requested part replacements that we can provide:
Bracelets
Dials
Watchband
Deployant Buckle
Links
Bezel Inserts
Spring Bars
Pinions
Sapphire Crystals
Crown Gaskets
Oscillating Weight Clips
And More
Luxury Watch Repair in Atlanta, GA
Is your luxury watch suffering from water damage, scratched glass, damaged links or another common issue? There's no need to worry. The specialists at Atlanta Luxury Watches will help restore and revitalize your favorite Rolex or high-end timepiece. Our professional luxury watch and Rolex repair in Atlanta includes a variety of services like de-magnetizing, glass replacement, bracelet repair, cleaning, polishing, resizing, battery and crystal replacement, dial refinishing and more. We will provide a full inspection and diagnose the cause of your trouble. Once the problem is identified, we will work one on one to create a custom solution that fits your needs and budget.
Do You Need Reliable Atlanta Rolex Repair Services? Call or Visit Atlanta Luxury Watches
Are you searching the internet for dependable "Rolex repair near me"? If so, then call or visit the experts at Atlanta Luxury Watches today. Our team of professionals can help restore your luxury timepiece, so you can once again wear your Rolex proudly. Contact our office for more information about Rolex repair in Atlanta. We are always available to answer any questions you may have and can also schedule a convenient appointment for your next Atlanta Rolex repair service.
Our Services

APPRAISAL
We offer professional luxury watch appraisal services. Get your watch appraised today.
WATCH REPAIR
We offer most reliable luxury watch repair services in Atlanta. Call us now or stop by our store.

SELL YOUR WATCH
We are one of the top paying watch buyers in Atlanta. Sell your luxury watch today for cash.